Based in Alaska for the 2018 season, the 212-passenger Star Legend will visit Seattle, Windstar's headquarters, for the first time on June 27, 2018 and make a historic sail through the Chittenden Locks in Ballard and on to Lake Union.
On June 27, Star Legend will become the largest-known cruise ship ever to transit the Ballard Locks and the century-old Lake Washington Ship Canal through Ballard and Fremont, to sail on to Lake Union as part a celebration of Pacific Northwest cruising. Star Legend is owned by Seattle-based Windstar Cruises, a small ship cruise line with a fleet of six ships, and is sailing her inaugural season in Alaska from May to Sept., offering boutique, expedition cruising in luxurious, all-suite accommodations.
Star Legend carries 212 guests and 153 crew and is 440 feet in length (134 m.) with a beam (widest point) of 63 feet (19 m.), the ship will have about 7.5 feet to spare on each side as it enters the Ballard Locks. Weighing in at 9,975 gross registered tons (grt) with six passenger decks, 106 suites and 153 international crew,
The public are invited to view the event from shore, time line below.
WHEN: Wednesday, June 27, 2018
WHERE: Bell Street Pier 66, Ballard Locks, Ballard/Fremont Ship Canal and Lake Union.
PLACES TO VIEW THE SHIP FROM SHORE:
Pier 66 / Elliott Bay – 7 AM to 12:30 PM
Ballard Locks – 1 PM & 7 PM
Ballard Bridge – Approx. 2 PM & 6:30 PM
Ballard Bridge, Ship Canal (Ballard/Fremont), Fremont Bridge – Approx. 2-3 PM & 6-7 PM
Shilshole Marina/Golden Gardens in Ballard – 8 PM
WHY: Star Legend is calling on Seattle as a special detour from its summer series of inaugural Alaska cruises, running from May through September. The ship's visit gives the company a chance to connect with its home town and 150 Seattle-based staff. This will be the first time Star Legend will visit Seattle, and the first time a Windstar ship has been in Seattle in 20 years when sister ship, the 148-passenger masted sailing yacht (MSY) Wind Spirit visited. The public is encouraged to view and welcome the ship to Seattle from various points ashore.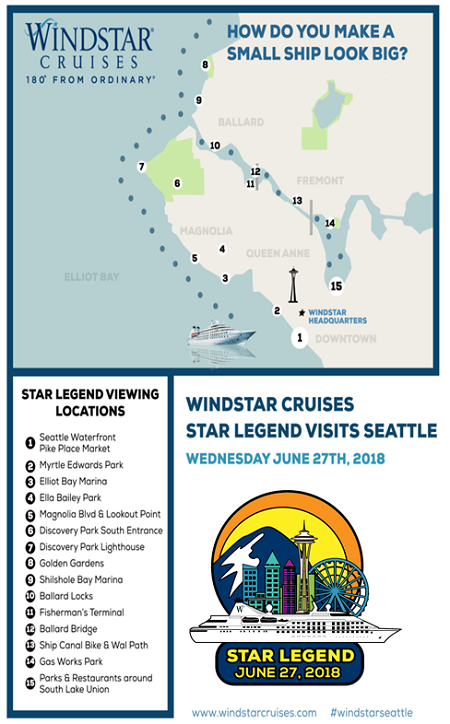 Click here for more information on the cruise line and ship.